| | | |
| --- | --- | --- |
| | 65th (2nd Yorkshire North Riding) Regiment of Foot | |
Return of the 65th to Queens Redoubt, Pokeno!
Pokeno Village Rd, Pokeno
Come & join the fun on
March 17th 2007 10am to 4pm
"On 18 June 1862, 120 men of the 65th Regiment from a camp at Baird's Farm on the north side of Bombay Hill joined the troops at Queen's Redoubt, so that there were more than 400 men working on the fort defenses, buildings and other facilities".
150 years later the 65th is returning to Queen's Redoubt
in the form of a detachment of the 65th Re-enactment Group from their base at
Howick Historic Village.
On the day see:
military drills
loading and firing of antique weapons
the Coehorn mortar in action
skirmish drills with firing (no projectiles!) & lots of smoke!
check progress on the restored earthworks
wear period costume if you like
bring a lunch - enjoy a picnic on the site
Opportunities to join the Friends of Queen's Redoubt and participate in the project.
This is the first open day organized by the Queen's Redoubt Trust at the site at Pokeno. There will be more!
Admission: Adults $2.00, school children free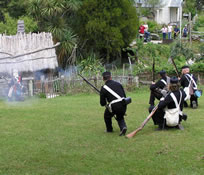 Created 19 February, 2007