| | | |
| --- | --- | --- |
| | 65th (2nd Yorkshire North Riding) Regiment of Foot | |
Uniforms and Equipment
We wear the 1860s campaign uniform, worn by British units serving in New Zealand in the 1860s, of navy blue (rather than the traditional red) serge fatigue jacket (or 'India pattern frock' or 'jumper') and Kilmarnock (pork pie) forage cap, with standard British Enfield equipment. Some of us also have red 1856 pattern parade tunics and 1855 pattern shakos.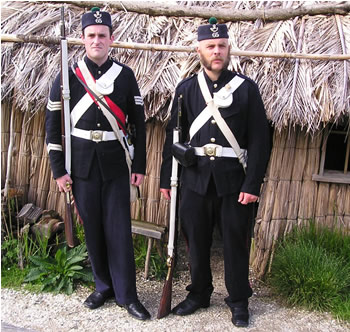 Non-Conformance from Regulation
Being literally at the ends of the Earth from England, it would have taken some time for new dress regulations to be implemented by troops in New Zealand. The voyage alone was at least four months.
There are two theories about why troops in New Zealand wore blue India pattern frocks:
That there was a shortage of red serge in New Zealand in 1860, when the jacket was implemented.
Someone realised that blue is much less conspicuous in the bush than red. (Ridiculous thought - Col. Alexander thought "all colours look the same at a thousand yards".)
There is photographic evidence of the 65th parading in New Plymouth in 1861 wearing white duck trousers, which had been abolished. They were supposed to be for use in the tropics and New Zealand is definitely temperate (much like England, only sunnier).

The 65th on parade, New Plymouth, Taranaki, March 1861
Alexander Turnbull Library - PA1-q-250-04
Officers displayed their traditional lack of regard for regulation in the field. Most of them stowed their sword and equipped themselves with an Adams, Tranter, or Colt revolver and wore other ranks' fatigue jackets with no devices.
"On Wednesday, the 27th [March 1861] the 65th assembled for parade, mustering to the number of between 300 and 400 men. It was a gratifying sight to contemplate these noble fellows, whose gallant bearing shone forth through all the motley & parti colored array of their well worn, threadbare, curiously-clouted raiment – scarce two jackets were alike and of the whole there were but two of the scarlet hue; caps with the regimental number were at a discount whilst a trusty cutlass in many cases did honourably duty for the officers' holiday swords. A finer body of men it would be difficult to meet with, and I would willingly have given a trifle to have seen them paraded, just as they were, along with some of the swell corps before Her Majesty in Hyde Park. It will readily be imagined what a sensation these warrior heroes would have created. Colonel Wyatt, as well he might, looked delighted at the appearance of his men, and the men, in return, appeared to be equally pleased with their Colonel." ( "The Waitara and the War from a Civil point of View" - from the New Zealander - April 6. – Taranaki Herald, 20th April 1861 – p. 4)
Personal Appearance
During the Crimean War (1854 - 56), beards were allowed. This practice was widespread, indeed almost universal in the British Army during the 1860s. Most photographs of the period show soldiers of this regiment with huge bushy beards, unlike some other regiments. However, their hair appears to be rather short and neat. Indeed, Sheffield Grace commented in his book "The men of the 65th who paraded were shaggy, bearded giants, roughly clad, with their arms in excellent order", unlike some other regiments, recently arrived from garrison duty in Australia.

Six soldiers of the Light Infantry Company, 65th Regiment.
From left to right: Drummer James Kendrick (another source identifies him a Bugler Austin), Colour Sergeant [Alexander] William Acheson, Private Tobin, Lance-Corporal John Lennox, Sergeant Feltham and Sergeant (another source identifies him as Corporal) John Russell.
Alexander Turnbull Library - 1/2-025608-F
Full Equipment List
(from Uniforms & Equipment of the British Army 1866 - original spelling retained) - my notes in brackets.
Click on jump for photograph. Also see some of the research material in the page List of Changes to British Army weapons, uniforms and equipment relevant to an infantry unit during the period we portray.
Arms
Rifle musket, pattern 1853 - long rifle (Modern parlance, never used at the time - 'Enfield 3 band') - with rammer, bayonet (17" triangular socket), scabbard, muzzle stopper, snap cap with chain. (Received by the regiment in early 1858)
Rifle musket, pattern 1860 - short rifle ('Enfield 2 band') - with rammer, bayonet (23" sword), scabbard, muzzle stopper, snap cap with chain (for serjeants only) (unknown when/if serjeants of the 65th received these - photos of the regiment in Taranaki in 1860 shows them carrying the long rifle - I am continuing to research this. Not all sergeants in the 57th regt. received these rifles until 1866. Serjeants of the 40th regt. are shown with them in 1864.).
Nipple wrench (without cramp for men, with cramp for corporals, Serjeant's Tool for serjeants)
Sword and Scabbard, drummers' pattern (for musicians only)
Revolvers (privately purchased by officers)
Clothing
Leggings, leather (I have seen no photographic evidence of the 65th wearing them)
Sash, crimson worsted (for serjeants)
Trousers, summer - blue serge (navy blue with 1/4" red welt), winter - Oxford mix cloth
Tunic - red, (serjeants and officers - scarlet) (1856 pattern single breasted, with white regimental facings. The 65th received this pattern tunic in 1857.)
Great coat (grey kersey)
Badges, good conduct
Badges, shooting
Accoutrements
Expense pouch, black (1855 pattern), 20 rounds, or
Bag, ball buff, with zinc oil bottle (expense pouch - 1859 pattern) 10 rounds (no photographic evidence of the 65th receiving these)
Belt, pouch, buff (cartridge box sling)
Belt, waist, buff
Canteen, wooden, with strap (issued in the field only)
Frog, bayonet, buff
Havresack (issued in the field only)
Locket, Union (waistbelt buckle, with regimental numeral)
Pouch (cartridge pouch - black leather, 50 rounds), Serjeant's pattern (20 rounds)
Pouch, for percussion cap, buff
Sling, musket, buff
Necessaries
Blacking
Braces
Brass button
Brush - brass cleaning
Brush - clothes
Brush - shaving
Brushes - shoe X 2
Comb
Knapsack, with slings
Mitts (black wool)
Razor and case
Shirts - cotton or worsted
Socks, worsted
Sponge (for applying pipe-clay)
Stock and clasp - black leather
Tin, mess, with cover and strap
Towels X 2
Soap
Pipe-clay (we use white shoe creme)
Account book, small
Field Exercises book (officers and serjeants only)
Bible and prayer book
Additional
Cap, forage, Other Ranks', Kilmarnock (pork pie) with brass regimental numerals and tourie - pre-1861: white (and grenade badge) grenadier company, blue battalion, green (and bugle badge) light company; post abolition of flank companies - blue all companies
Cap, forage, Officers'
Serge frock (fatigue jacket) - navy blue
Cap cover - white cotton
Drummer's Appointments*
(* Light infantry, including light company of line regiments, have no drummers)
Camp Equipment*
Blanket - grey coloured wool (1 per man in the field - used for sleeping under, and as tentes d'abris)
Blanket, waterproof (Gum blanket) - Approved 21/1/62
Kettle, camp, Flanders, large (1 per 5 men in the field)
(*not full list, just what a man would carry)
Other Equipment
For a full list of where to obtain these items, see the Equipment List and Suppliers.
Last updated 18 February 2021